Why It Matters to Us
At EQT, we understand that to achieve operational excellence, safety must come first. The safety of our employees and contract workers is a top priority, as natural gas extraction activities, including well operations and water hauling, can pose health and safety risks to workers. A strong safety record also contributes to our success through attracting and retaining employees and demonstrating strong management to investors and other stakeholders.
What We Are Doing
The safety of our people and the environment is at the core of everything we do. We prioritize safety objectives over business objectives, and we conduct our active business operations in accordance with the applicable health and safety requirements established by the U.S. Occupational Safety and Health Administration (OSHA) and other regulatory bodies. As we strive to be the safest operator in the Appalachian Basin, we implement technologies, robust training and clear safety guidelines to ensure all workers — including our large contractor base — have the resources to work safely. This is why we embarked on a cultural evolution to enhance our safety strategy following the appointment of new management in July 2019. The result was a new and improved safety program, culture and coaching tool — EQT FOCUS.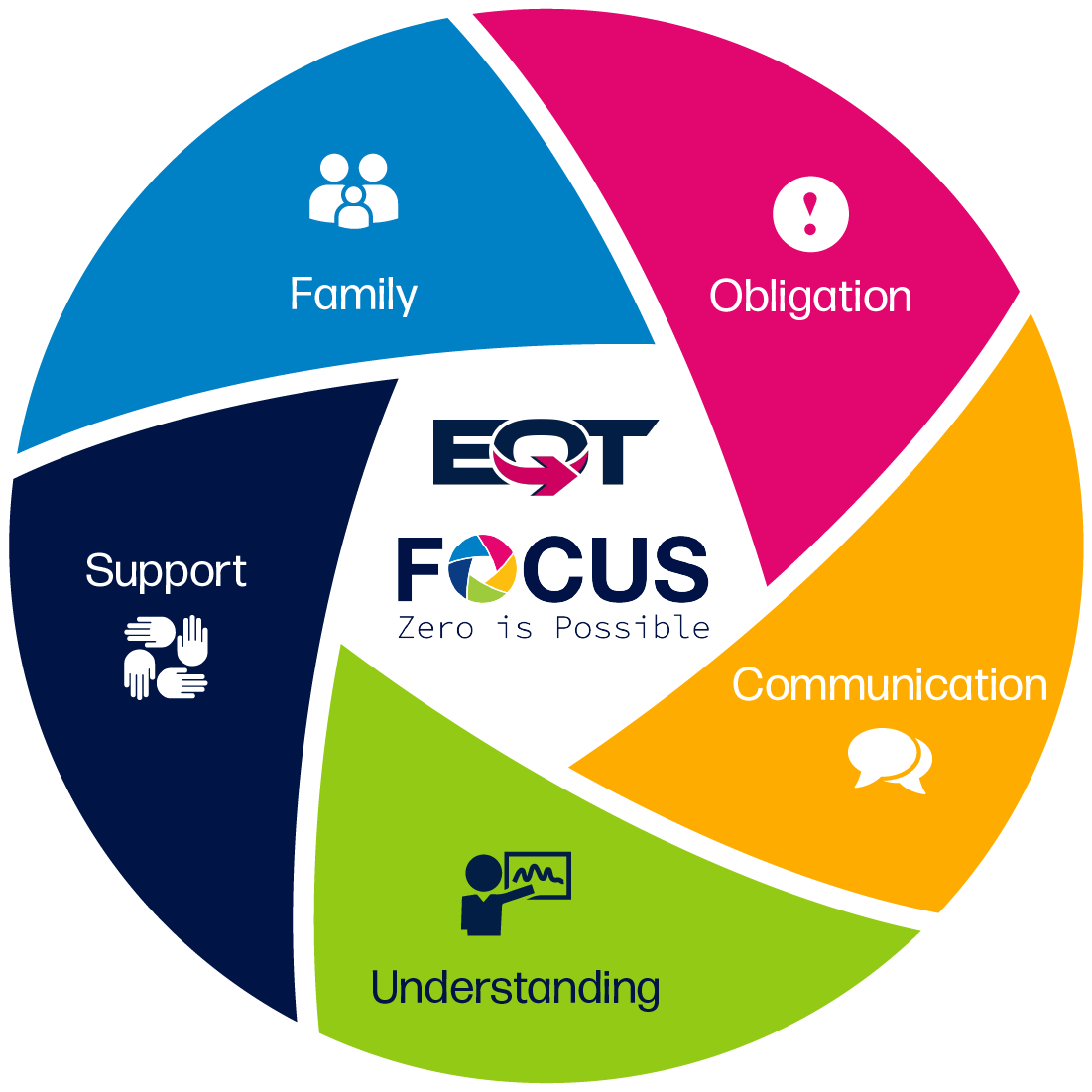 RESET
F is for Family
Family is about expanding our connections and caring for the people here at work and at home, and treating everyone as our family.
O is for Obligation
Each one of us has an obligation to perform our jobs efficiently and safely in a manner that protects the health and safety of ourselves and those around us.
C is for Communication
Communication is engaging in respectful conversations that focus on our common goals and values
U is for Understanding
Understanding is being aware of our safety goals and how we can each contribute to achieving them
S is for Support
Support is working together to create an environment where Zero is Possible, a safe working environment to ensure we all return home safely to our families
FOCUS exemplifies our commitment to creating an environment where "Zero is Possible," and ensures that all employees and contract workers receive the same messaging on why safety is important to the EQT family — at home and on the job. We apply a FOCUS lens to our safety management processes, training, contractor guidance and interaction with local communities. We began rewarding our employees and contractors on FOCUS behaviors in late 2019 using challenge coins — one for each letter of the acronym. Contract workers receive a coin and recognition across the organization for going beyond expectations and, if they are awarded all five letters, they receive a gift.
As a responsible corporate citizen, we share our best safety practices with our peers to help improve overall industry safety performance. Through our active membership in the ISNetworld® Appalachian Working Group (AWG), we share safety-related best practices and innovations with a group of natural gas producers to improve safety performance within the Appalachian Basin.
governance and data tracking
We successfully reorganized our Safety department in 2019 by incorporating the group into EQT's Environmental, Health and Safety (EHS) department to work alongside the Environmental, Fleet and Security teams. The Vice President, EHS, who reports directly to our Chief Executive Officer, leads the department and provides updates to the Public Policy and Corporate Responsibility Committee of the Board of Directors.
We also created a central database on our digital work environment in 2019 for tracking all EHS data in one location that is available to all EQT employees. The EHS department updates this data monthly, including the three short-term incentive plan metrics applicable to all employees: employee total recordable incident rate (TRIR), contractor TRIR and Notice of Violation (NOV) rates.
ehs management system and risk identification
To align with the reorganization of our EHS department, we audited our safety- and environmental-related programs at the end of 2019 to identify areas for consolidation, improvement and better alignment to current issues and regulatory requirements. Through this work, we renamed and enhanced our Safety Management System to an EHS Management System that includes guidance on our safety and environmental expectations. Our EHS Management System is informed by federal and state regulatory requirements of OSHA, the Pennsylvania Department of Environmental Protection, the Ohio Department of Natural Resources and the West Virginia Department of Environmental Protection. Our EHS Management System enables us to systematically identify and manage workforce safety risk by communicating our EHS Policy, workforce safety information, awareness and training, safety procedures, performance monitoring and safety verification processes to our employees and contractors at all locations. In 2019, 830 workers[1] (100% of EQT employees and contract workers) were covered by the EHS Management System.
The identification, prioritization and management of our safety risk are core to our EHS Management System. Our detailed risk and hazard analysis (RHA) process uses a hierarchy of safety controls to relentlessly pursue, establish and sustain proper safeguards. Before any fieldwork begins, the RHA requires a systematic safety review of the site construction plan and all daily onsite workforce activities. If a task is deemed unsafe, everyone has the obligation and authority to stop such work without fear of retribution or discipline. To ensure the RHA functions properly, we use a multi-layered verification process — a qualified team of internal and external safety experts oversee observation, testing, inspections and audits. We share verification results with our leadership team, and, if potential weaknesses are identified, we take action to strengthen them.
We encourage employees to communicate with management about issues or initiatives that could help improve overall performance. We also implemented an emergency 800 number in 2019 that operates 24 hours a day, seven days a week. We require all employees, contractors and vendors to report an emergency, medical issue, fire, spill, safety concern, etc. Members of the EHS department field those calls to ensure the right teams are notified to respond. Please see the highlight story in the "Why It Matters to Us" tab for more information.
We also maintain a community hotline number for community members to report safety concerns; see Community Impacts and Safety for more information on how we protect our communities.
Emergency Hotline: 1-833-990-1534
safety training
Safety training is a critical component of our workplace safety initiatives. All EQT employees receive core safety training annually, along with more frequent specialized training tailored to the work performed and the types of issues faced. We customize specialized training subjects and delivery methods as needed. For example, monthly safety meetings held with field employees cover issues such as:
Stop-work authority
Personal protective equipment
Incident reporting and investigation
Regulatory citation information
Emergency preparedness
Outdoor safety
Safe driving
Industry specific technical safety training
Revamping our approach to training, messaging and culture were priorities in 2019, and our EHS department began redesigning our trainings to better suit the nature of our work and workforce. We began rolling out a new FOCUS training program in 2019 related to water hauler truck safety and rollover prevention. With support from our Water division, we filmed various truck scenarios to display proper and improper driving techniques in an engaging learning format. More than 500 contractors and 300 EQT field employees completed the training, with overwhelmingly positive feedback. We plan to implement new FOCUS training for office employees in 2020.
"The FOCUS training provided a facilitated platform where [the instructor] empowered each participant an uncensored opportunity to express their perspective on how to be better. The format encouraged unbridled collaboration and transparency ultimately delivering challenging and stimulated thinking. I personally believe EQT differentiated itself heads above its peers with the FOCUS training."

– David Alvarez, President of Energy Transportation, LLC
"The involvement of drivers, field supervisors and dispatchers is rarely seen collaborating with senior management, and EQT gave our employees the ability to realize this opportunity. It engaged our personnel and empowered them to say something while operating in the field."

– Matthew Kicinski, Vice President of Operations, RES Water
On average, full-time EQT employees received approximately 11 hours of health and safety training during 2019, while desk-based contract workers received approximately 1 hour of this training.
contractor safety
Contract workers make up approximately 90% of EQT's total workforce hours, necessitating transparency from and collaboration with our partner companies. A contractor expecting to perform services in drilling, construction, maintenance or other operations-related activities at EQT must agree to adhere to our Contractor Safety Standard and Contractor Safe Work Rules. These safety requirements, updated regularly to reflect best practices, apply to all work performed by a contractor's employees and the employees of their subcontractors. Contractors must also pass a qualification process developed by ISNETWorld® — an industry-recognized platform for monitoring safety metrics and performance. ISNETWorld® ensures our contractors qualify by providing vital information regarding their performance in the following key areas:
Safety Management Systems
Injury and illness statistics
Department of Transportation (DOT) inspection compliance
DOT motor carrier safety rating
Written safety programs and safety training
Experience modification rating
Fatality history
Our EHS department collaborates with our Supplier Relations Management group to oversee all new contractors' compliance with our safety standards. If a contractor does not satisfy our safety standards, EHS collaborates with the supplier, applicable operations department and Supplier Relations Management to seek improvement. If the supplier does not improve, safer service providers are engaged. Existing contractors who fail to meet our rules and standards are not permitted to continue to work on an EQT site.
We remain engaged with our contractors as work evolves to ensure we achieve our joint commitment to safety. We track contractor safety incident rates (injury and vehicle accidents) provided by contractors via ISNETWorld®, and our contractor safety auditing process is incorporated in our contractor safety qualification program. We also conduct quarterly contractor safety meetings and, in 2019, held two larger contractor safety meetings attended by more than 700 contract workers. During these meetings, we reviewed incidents, held roundtable discussions and provided feedback.
traffic safety
Safe driving is an area of particular importance for EQT, as our site activities result in heavy truck traffic that affects surrounding communities. In addition to our new FOCUS training for water haulers, we maintain Traffic Control Plans, Fleet Safety Procedures and personnel with law enforcement backgrounds to monitor contractors and operate speed radar equipment. Not only do these individuals help ensure our employees and contractors follow our guidelines, they also support community safety and concerns. Read more about our efforts to protect public safety in Community Impacts and Safety.
We also work closely with driving safety and industry experts to reduce risk when operating an EQT vehicle. Both new and experienced drivers must demonstrate their safe driving skills through a periodic supervisor-observation session. New employees undergo a series of computer-based training programs and behind-the-wheel training, including a defensive driving module. We provide additional instruction for those employees operating specialty vehicles or haul trailers, performing off-road travel or driving construction vehicles on public roads. One such course is a U.S. DOT training, which enables drivers to cross state lines and remain in compliance. We require contractors to record miles driven for EQT in ISNETWorld® to establish contractor preventable vehicle accident rates.
We require all of our water hauling vendors to have video cameras installed in their vehicles — one camera facing the driver and another forward-facing camera to show the roadway. These cameras allow us to conduct periodic spot checks on the drivers to verify that they are following the bonded routes, adhering to posted speed limits and ensure that they are not distracted while driving. The cameras have also assisted us in determining the cause of accidents and are used to share lessons learned from different events.
In 2020, we are also developing an insight in our digital work environment that will allow us to track the location and status (e.g., loaded, unloaded, etc.) of water trucks and other vehicles of our service providers. We intend to use this insight to more efficiently source local, available vehicles — thereby reducing mileage traveled — and monitor for vehicles exceeding EQT standards, such as defined speed levels. We believe that this insight will increase the effectiveness of our incident response times.
occupational health services
Healthy employees are more adept at performing their roles safely. To this end, our Medical Services team plays a key role ensuring the occupational health of EQT employees, providing advice and teaming with the EHS department on repetitive motion hazards, industrial hygiene results and the potential for elevated noise exposure. The Medical Services team is accessible to all EQT employees 24 hours a day, 7 days a week.
Read more about employee wellness in Talent Attraction and Retention, Diversity and Inclusion.
1 Inclusive of EQT employees and contract employees only. Number of individuals in both demographics as of December 2019.
How We Are Doing
If a safety incident does occur, we record the nature of the event as prescribed by the OSHA injury/illness recordkeeping requirements in a safety incident management database. After each incident, we conduct a thorough incident review to clarify possible causes, identify options to prevent recurrences and highlight opportunities to improve training, processes and procedures using the hierarchy of safety controls. EQT personnel also conduct regular incident review meetings with senior management. By tracking and analyzing safety incidents, we can assess the effectiveness of our approach to safety management and strive for continuous improvement.
We began focusing on tracking leading indicators in 2019 — near-miss incidents, number of trainings held, audits performed on contractors and our own operations, and survey results — to better benchmark ourselves and identify areas for improvement. We conducted a contractor safety survey in May 2019, the results of which shaped our processes, trainings and communication with contractors going forward. We plan to survey our own employees in 2020.
In addition to the use of safety incident metrics, we also use several safety management verification processes to evaluate our safety program:
Safety team inspection program
Safety team contractor monthly safety auditing program
External (third-party experts) EHS Management System and worksite auditing program
We analyze all results from our safety verification programs for potential systemic issues and establish actions to ensure continuous and sustainable program improvement. In 2020, an independent firm will audit our safety program to identify any additional gaps.
Work-Related Injuries1
2017

2018

2019

EMPLOYEES

#

Rate

#
Rate
#
Rate

Fatalities from work-related injury

0

0
0
0
0
0

High-consequence work-related injuries[2]

3

0.15
1
0.06
0
0

Workforce accidents[3]

70
5
39
3.20
16
1.98
Lost time accidents[4]
4
0.29
0
0
1
0.12
Recordable work-related injuries (including fatalities)
20
1.43
6
0.49
4
0.49
Main types of work-related injury
Slip and fall, struck by/against or insect bites
Nearly 65% caused by slip and fall, struck by/against or insect bites
Accidental methanol ingestion, ergonomics (heavy lifting), slip and fall, and finger injury as a result of being caught in or between equipment
CONTRACTORS
#
Rate
#
Rate
#
Rate
Fatalities from work-related injury
1
0.01
2
0.01
0
0
Workforce accidents

[3]

199
3.39
372
3.04
173
2.44
Lost time accidents[4]
12
0.20
29
0.24
10
0.14
Recordable work-related injuries (including fatalities)[5]
63
1.07
98
0.80
29
0.41
Main types of work-related injury
Nearly 70% either struck by/against, slip and fall, or hand and finger injuries as a result of being caught in or between equipment
Majority continue to result from struck by/against, slip and fall, or hand and finger injuries as a result of being caught in or between equipment
Total Recordable Incident Rate
Metric

Unit of Measure

2017

2018

2019

Full-time employees

Incidents per 200,000 hours worked

1.43
0.49
0.49

Contract employees

1.07
0.80
0.41

Short-service employees

0
0
0.25
The number of workforce accidents and our total recordable incident rate — for employees and contractors — decreased in 2019 compared to 2018. The majority of injuries continue to result from slips, falls and hands/fingers getting caught in or between equipment. We had zero fatalities in 2019.
Our 2019 contractor recordable work-related injury rate decreased by 49% compared to 2018.
Work-Related Ill Health
2017

2018

2019

EMPLOYEES

# of fatalities as a result of work-related ill health

0
0
0

# of cases of work-related ill health

1
1
1

CONTRACTORS

# of fatalities as a result of work-related ill health
0
0
0
# of cases of work-related ill health
2
3
0
We had only one employee with work-related ill health in 2019 from poisoning in relation to the accidental ingestion of methanol.
Near Miss Frequency Rate6
| | | | |
| --- | --- | --- | --- |
| | 2017 | 2018 | 2019 |
| Full-time employees | 4.22 | 3.70 | 0.99 |
| Contract employees | 2.54 | 1.95 | 1.56 |
| Short-service employees[7] | N/A | N/A | 0 |
Our near-miss frequency rate has decreased significantly year-over-year.
EQT Preventable Vehicle Accident Rates
| | | | |
| --- | --- | --- | --- |
| | 2017 | 2018 | 2019 |
| Preventable vehicle accident rates (Employees)[8] | 0.75 | 1.27 | 1.10 |
| Preventable vehicle accident rates (Contractors)[9] | 1.48 | 2.15 | 2.36 |
Our contractor preventable vehicle accident rate increased slightly in 2019 because the number of reported miles driven in 2019 decreased by nearly 45% compared to 2018.
1 Per 200,000 hours worked.
2 Inclusive of cases with a return to work date greater than 6 months from date of incident.
3 Includes all reported injuries.
4 Number of lost work days per 100 full-time equivalent (FTE) employees
5 2018 contractor OSHA recordable information updated to include a case that was reported after completion of our 2019 Corporate Social Responsibility report in December, 2019.
6 Incidents per 200,000 hours worked.
7 Short-service employee information available for EQT employees only.
8 (# of preventable vehicle accidents * 1,000,000) / Miles Driven.
9 2018 Contractor PVA rate updated to include incident reported after completion of 2019 ESG Report. (# of PVAs * 1,000,000) / Miles Driven – does not include contractor information associated with the Mountain Valley Pipeline project. Inclusive of contractor PVAs occurring on and off EQT property.