About EQT
EQT Corporation (New York Stock Exchange: EQT) is a leading independent natural gas company with operations focused in the cores of the Marcellus and Utica Shales in the Appalachian Basin. We are dedicated to responsibly developing our world-class asset base and being the operator of choice for all stakeholders. By leveraging a culture that prioritizes operational efficiency, technology and sustainability, we seek to continuously improve the way we produce environmentally responsible, reliable, low-cost energy. We have a longstanding commitment to the safety of our employees, contractors and communities, and to the reduction of our overall environmental footprint. Our values are evident in the way we operate and in how we interact each day — Trust, Teamwork, Heart and Evolution are at the center of everything we do.
Our mission is to realize the full potential of EQT to become the operator of choice for all stakeholders.
For every hour that you have your lights on, that you work on your computer, that you drive an electric car or that you connect with friends and family digitally, we are responsible for one minute of that time. As the largest producer of natural gas in the country, EQT produces the equivalent of approximately 1/60th of the energy feedstock of domestic utilities.
At EQT, we are future focused. We are focused on the critical role that natural gas plays in the future energy mix both domestically and abroad. We are focused on minimizing the impact of our operations, reducing our overall environmental footprint and operating safely. We are focused on maintaining a rewarding and collaborative workplace, engaging our landowners and supporting the communities where our employees work and live. And we are focused on testing the boundaries of what is possible in operational performance, leveraging technological and human capital to execute our combo-development strategy, leading to a step-change in operational efficiency.
Our future focus began in July 2019, with the substantial reconstitution of our Board of Directors and senior leadership following our July 2019 annual meeting of shareholders. In the following months, we successfully executed a 100-Day Transformation Plan, a management-led initiative designed to transform EQT into a modern, digitally-enabled natural gas company capable of executing combo-development projects. As a result of our efforts, we have reduced our Pennsylvania Marcellus well costs by approximately 30% and decreased our general and administrative costs by approximately 25% while preserving our core inventory. We reduced our capital expenditures in 2019 by approximately $966 million, or 35.3% as compared to 2018, while achieving 2019 sales volumes of 1,508 billions of cubic feet equivalent (Bcfe) and average daily sales volumes of 4,131 million cubic feet equivalent (MMcfe), a year-over-year increase of 1.4%, or 4.2% after excluding sales volumes related to certain non-core production and related midstream assets that we sold in 2018.
With 648 employees as of December 31, 2019, we generated 2019 total operating revenues of approximately $4.4 billion. As of December 31, 2019, we held a 19.9% equity stake in Equitrans Midstream Corporation (New York Stock Exchange: ETRN) (ETRN). Unless otherwise noted, all references to "EQT", "EQT Corporation", "we", "our" or "us" in this report refer collectively to EQT Corporation and its consolidated subsidiaries, and give effect to (i) our acquisition of Rice Energy Inc. on November 13, 2017, and (ii) our spin-off of our former midstream business to ETRN on November 12, 2018.
Markets and Products
The natural gas supply chain, from discovery to market delivery, is a complex series of activities. For end users to receive natural gas or natural gas-derived products, the resource must first be identified and produced. We have investments within this phase of the value chain, including drilling, completion, pumping and gas field service providers, casings for drilling and information technology products.
EQT produces natural gas and, to a lesser extent, natural gas liquids (NGLs) sold as a commodity to marketers, utilities, power generators and industrial customers in the Appalachian Basin and markets that are accessible through our current transportation portfolio, which includes markets in the Gulf Coast, Midwest and Northeast United States and Canada. We also contract with certain processors to market a portion of NGLs on our behalf.
In 2019, we spent approximately $1.84 billion with more than 1,700 suppliers. Of our total spend, nearly 45.4% was spent inside of our operational footprint while the remaining 54.6% went to suppliers outside of our operating area. According to PowerAdvocate's Oil and Gas Upstream model, the upstream oil and gas industry is approximately 30% labor intensive. See Community Impacts and Safety for additional information.
Our value chain is shown below.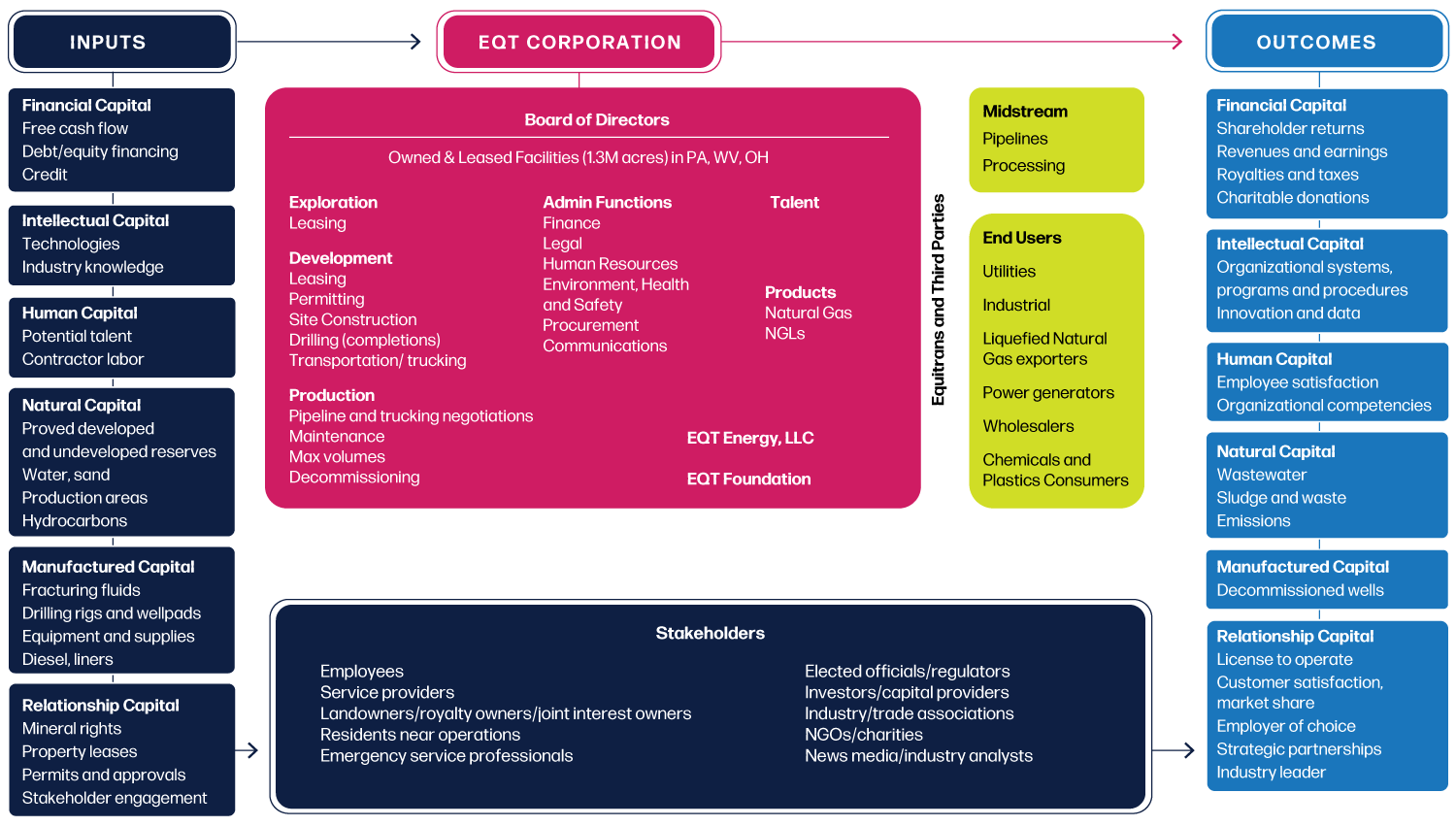 Reserves and Production
The table below shows our 2019 production data. All production information related to natural gas is reported net of the effect of any reduction in natural gas volume resulting from the processing of NGLs.
2019 Production1
| | | | | |
| --- | --- | --- | --- | --- |
| | Pennsylvania | West Virginia | Ohio | Total |
| Natural gas (MMcf) | 1,001,973 | 202,932 | 230,230 | 1,435,134 |
| NGLs (Mbbl) | 0 | 67,387 | 443 | 67,830 |
| Oil (Mbbl) | 0 | 4,060 | 872 | 4,932 |
| Total natural gas, NGLs and oil production (MMcfe) | 1,001,973 | 274,378 | 231,545 | 1,507,896 |
| Total natural gas, NGLs and oil production (MBOE) | 166,995.5 | 45,729.67 | 38,590.83 | 251,316 |
In 2019, we produced an average of:
Natural gas: 3,931.9 MMcf/day
NGLs: 185.8 Mbbl/day
Oil: 13.5 Mbbl/day
The following charts provide a breakdown of our proved natural gas reserves — the estimated quantity of economically producible natural gas held within the formations where we operate. Our 2019 Form 10-K provides an explanation of how we determine our reserves. As of December 31, 2019, we had 17.5 trillion cubic feet equivalent of proved natural gas, NGLs and crude oil reserves across approximately 1.3 million gross acres, including approximately 1.1 million gross acres in the Marcellus Shale.
2019 Proved Reserves (BCFE)
2019 Proved Reserves (BCfe)
22,000
19,800
17,600
15,400
13,200
11,000
8,800
6,600
4,400
2,200
0
| | | | | |
| --- | --- | --- | --- | --- |
| | | | | |
| Marcellus | Upper Devonian | Ohio Utica | Other | Total |
2019 Proved Reserves (MBOE)
2019 Proved Reserves (MBOE)*
3,600,000
3,240,000
2,880,000
2,520,000
2,160,000
1,800,000
1,440,000
1,080,000
720,000
360,000
0
2,516,166.67

1,752,166.67

764,000.00

231,333.33

157,833.33

73,500.00

2,911,500.00

2,074,000.00

837,500.00

Marcellus

Upper Devonian

Ohio Utica

Other

Total
As a natural gas producer, EQT's production process encompasses both producing and in-process wells, as outlined in the table below.
2019 Wells
| | | |
| --- | --- | --- |
| | Gross | Net |
| Productive wells — natural gas | 3,404 | 3,181 |
| In-process wells — natural gas | 186 | 178 |
As of December 31, 2019, we also owned and operated approximately 417 miles of high-pressure gathering lines. We did not have any productive or in-process oil wells in 2019.
1 In this report, we use a conversion rate of 6MMcf to 1MBOE. Mbbl = million barrels; MBOE = millions of barrels of oil equivalent; MMcf = million cubic feet; MMcfe = million cubic feet of gas equivalent.