Why It Matters to Us
At EQT, we recognize the important role land plays in our daily activities, as we owned or leased approximately 1.3 million gross acres primarily in Pennsylvania, West Virginia and Ohio in 2019. The potential impact of natural gas operations on biodiversity, habitats and land are highly regulated and a primary focus for local communities, landowners and many industry associations. Ensuring our operations — including site design, development, operation and decommissioning — do not negatively impact the surrounding landscape and local biodiversity is critical to building trusting relationships with our valued stakeholders and aligns with our commitment to environmental stewardship.
What We Are Doing
Our daily operations inevitably alter the land to some degree. Therefore, we focus our efforts on mitigating, avoiding and monitoring any impacts on the land and wildlife where we operate throughout the lifecycle of a site. We seek to avoid or minimize impacts by proactively addressing any issues identified during the permitting phase. As a member of the Marcellus Shale Coalition, we participate in working groups that focus on site planning, development, restoration and other topics that foster land protection. Our Permitting and Civil group works closely with our Environmental team through the permitting, monitoring and decommissioning of sites. We outline our guidelines in our comprehensive Environmental, Health and Safety Management System.
We do not conduct surface operations on legally protected lands such as federally designated wetlands, federal lands and national parks. We follow federal, state and local regulations regarding species and habitat protection during operational activity near protected lands or areas of high biodiversity. In 2019, we owned or leased approximately 1,029 square kilometers (km2) of active acreage in legally protected areas.
2019 Leased or Owned Acreage in Protected Areas1
| | | |
| --- | --- | --- |
| | Wetlands (km2) | Federal Land and Parks (km2) |
| Kentucky | 56.9 | 412.2 |
| Ohio | 10.4 | 1.3 |
| Pennsylvania | 39.8 | 128.2 |
| Virginia | 11.3 | 167.6 |
| West Virginia | 61.0 | 320.1 |
| TOTAL | 179.4 | 1,029.4 |
Surveys and Permitting
Prior to any development, we assess all of our operating sites for biodiversity risks, including those related to wetlands, ground stability, drainage systems and endangered species. We leverage a third-party surveying and mapping team to assess the site and create a wetland delineation report. We conduct geotechnical surveys to develop construction plans that minimize the risk of slope failure and utilize soils investigation surveys to confirm that our operations will not strain storm water systems or contribute to flooding. These surveys ensure that we can safely move forward with construction without significantly impacting the land.
Bats, snakes, mussels and plants are the most common endangered species found within our operating areas. Prior to commencing operations in any area, we conduct studies in coordination with the U.S. Fish and Wildlife Service and state wildlife resource agencies to determine whether threatened or endangered species exist in the region. If identified, we postpone development until appropriate mitigation activities, in consultation with a biologist, are completed. We also use various domestic environmental registries to identify potential impacts to threatened, endangered and special concern species or resources near possible areas of operation. We make it a priority to avoid disturbing these species and habitats; if this is not possible, we work with appropriate federal and state agencies to develop and execute protection plans. Such plans can include implementation of artificial structures, such as bat boxes and artificial bark, and species relocation, if required.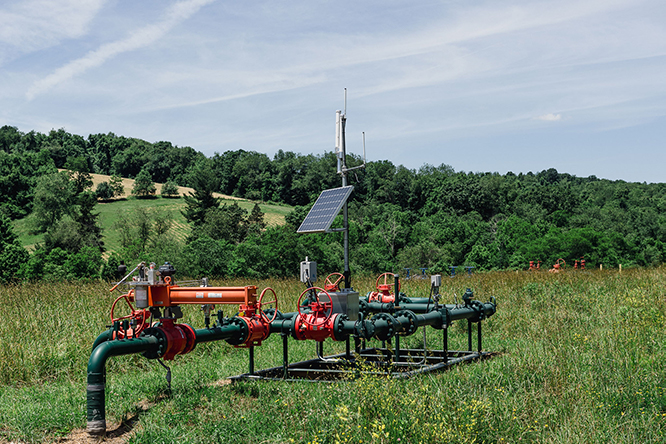 Ongoing Monitoring of Active Sites
Once a site is in development, we continuously monitor for biodiversity and land impacts. We maintain site-specific environmental management plans in alignment with the most stringent local regulatory requirements, often applying standards exceeding those required by law. Our plans include a Spill Prevention, Control, and Countermeasure Plan (see Spills for more information), groundwater protection plans and other topics as applicable to the locale. These plans detail the necessary site-specific actions to be taken in the event of an incident. For sites where endangered species have been identified and relocated, we continue to monitor species' health in their new environment for up to two years. We also leverage a third party for monthly site inspections, where they document the condition of the site and note any stabilization issues, spills or site damage. Identified issues are reported to our Permitting and Civil team, which sends a maintenance crew to address the issue on a priority schedule based on criticality. Our Permitting and Civil team also coordinates with our Environmental and/or Safety teams depending on the nature of the issue. In 2020, we plan to automate the process for reporting issues through our digital work environment, which will automatically notify the relevant response teams.
Decommissioning and Inactive Sites
Once site operations are complete, we work with property owners to restore their land — as closely as possible — to its original condition. We reestablish contours and revegetate with state-approved seed mixes, native seed mixes and/or vegetation requested by landowners. We also commonly accommodate agency requests to use specialized seed mixes (e.g., pollinator mixes) and landowner requests for topsoil segregation. These techniques support local flora and fauna by allowing wildlife movement, restoration of the habitat and prevention of invasive species. We work with landowners to successfully accommodate their preference for returning their land to its pre-construction condition all while meeting the regulatory requirements set forth by state and federal agencies. We continue to monitor the site until the Department of Environmental Protection (DEP) determines that we have met their requirements. This enables us to maintain positive relationships with landowners and communities and support biodiversity and habitat protection.
1 EQT uses U.S. Fish & Wildlife Service and U.S. Geological Survey data to identify protected wetlands and land areas of high biodiversity.
How We Are Doing
We aim to prevent significant incidents by maintaining best management practices for assessing, monitoring and mitigating potential or actual impacts on biodiversity and land. Failing to do so can result in environmental violations, which we track closely to monitor our performance. We measure our notice of violation (NOV) rate as it applies to violations specific to earth disturbance, as a significant violation could prevent our future access to permits. In 2019, we received 25 NOVs associated with biodiversity and land.
We also carefully track any impacts on biodiversity and habitats. We did not conduct surface operations on any land classified as a protected area or area of high biodiversity value in 2019, but rather leveraged our horizontal drilling technology to extract resources from beneath these areas. All of our development sites in Ohio require special coordination to minimize the disturbance of the Indiana Bat population which is native to the area. In that regard, we made accommodations during tree clearing on one of our Ohio sites developed in 2019 to avoid the roosting season of the Indiana Bat. Additionally, one of our sites in Pennsylvania was near the habitat of a freshwater mussel, the Wabash Pigtoe, which is designated as a Special Concern Species. All of the recommendations made by the Pennsylvania Fish and Boat Commission were instituted in our development of the site.
2019 Proved and Probable Reserves in or Near Protected Areas
| | |
| --- | --- |
| | 2019 |
| Percentage of proved reserves in or near sites with protected conservation status or endangered species habitat | 19% |
| Percentage of probable reserves in or near sites with protected conservation status or endangered species habitat | 65% |
In addition, we closely track any identified threatened and endangered species within our core operating area. Ten endangered species and three threatened species occupy habitats within our core operating area, covering Pennsylvania, West Virginia and Ohio. The Migratory Bird Treaty Act protects at least 25 different species that use EQT's core operating area as either breeding grounds or seasonal habitat. Additionally, the Bald and Golden Eagle Protection Act protects Bald and Golden Eagles, which nest in the area. The following table summarizes the species of concern located within our core operating area.
2019 U.S. Fish and Wildlife Service Threatened and Endangered Species — Core Operating Area
Animal

Plant

Endangered

Indiana Bat

Clubshell

Fanshell

Northern Riffleshell

Pink Mucket

Rayed Bean

Sheepnoose Mussel

Snuffbox Mussel

Northern Bulrush
Running Buffalo Clover

Threatened

Northern Long-eared Bat
Eastern Massasauga
Rabbitsfoot

Bald and Golden Eagle Protection Act
Looking Ahead
We continuously work to improve our biodiversity and land protection processes in alignment with regulatory requirements and industry best practices. In 2020, our Civil and Permitting team plans to establish a benchmark to better understand how quickly we address and solve issues identified by monitoring crews. The team will use the data to better define priority levels and identify solutions that enable our maintenance teams to respond to issues more efficiently.
We are also exploring additional opportunities to minimize our land impact. As described in Water, we are connecting more sites with water pipelines, allowing us to eliminate unnecessary water impoundments and reduce road traffic from water hauling. In 2019, we also began investing in combo-development. As a result of the enhanced planning associated with combo-development, we anticipate that we will be able to achieve our production volume target with fewer sites. Combined with maximizing lateral footage of our wells (horizontal drilling), we can further reduce our impact on land. For every site we eliminate, we estimate that we will prevent 40-50 acres of tree-clearing and grading, as well as reduce associated road impacts.
As we continue exploring and implementing new technologies and processes across the business, our commitment to environmental stewardship will remain a key influence and motivator.