Why It Matters to Us
To realize our full potential to become the operator of choice for all stakeholders, it is essential that we maintain a strong workforce and foster a culture aligned with our mission. Attracting and retaining diverse talent leads to greater innovation and overall success, as we rely on a broad range of skills to operate our business. We are steadfast in our commitment to hire, retain, and develop the best and brightest in our industry and to ensure all employees find purpose and meaning in their roles.
What We Are Doing
We aim to develop a workforce that produces peer leading results. To further that goal, we are focused on creating a modern, innovative, diverse, collaborative, and digitally-enabled work environment where top talent is incentivized to contribute at the highest levels. We aim to attract and retain top talent in our industry from our recruitment processes to our robust benefits package, learning and development opportunities, and technology-driven work environment.
Our organizational values of Trust, Teamwork, Heart, and Evolution are engrained into our company culture. Transparency, integrity, collaboration, and a willingness to look for better ways to operate all support our end-goal of producing timely, accurate data to help guide our decisions.
We are highly focused on ensuring that we get the best out of our employees, that they grow, that they are heard, and that they are valued. We leverage our digital capabilities and programs to recruit talent and promote learning, development, and performance. We also use our digital work environment to engage directly with our employees by sharing company updates, highlighting personnel accomplishments, and soliciting employee feedback. Using internal polls and surveys, employees are able to provide feedback to management on the technology we use, their work experience, and the overall company culture.
We measure the career development of our employees through the lens of personal growth, contributions to value creation, and recognition of individual actions. As we continue to evolve, we aim to solicit and respond to employee feedback to shape our policies and actions to be the best that we can be.
Attracting Talent
When recruiting talent and promoting job opportunities, we communicate who we are as an organization — a company with deep history that is a leader in innovation and committed to modernization. Our Human Resources (HR) team seeks to attract talent by showcasing who we are and what we do on our company website, career pages, and social media — including LinkedIn and Glassdoor. Our job opportunities are distributed to a multitude of job boards and our team is highly skilled in leveraging LinkedIn for additional sourcing and networking efforts. In 2020, we also redesigned our EQT.com Careers page to better resonate with prospective talent by sharing a "behind-the-curtain" view of our culture and environment and personifying our opportunities through employee testimonials. We maintain policies compliant with all federal and local regulations, including the Equal Employment Opportunity Commission and Americans with Disabilities Act, to promote fair and equitable recruiting practices. We also promote career mobility by maintaining Internal Applicant Guidelines.
In 2021, we instituted a new remote work policy pursuant to which all office-based employees (approximately 70% of our employees) now work remotely. This has allowed our HR team to expand talent searches beyond the geographical boundaries of our operational footprint and to hire highly skilled and diverse candidates, regardless of where they reside. Additionally, we have been able to retain employees that would have otherwise considered leaving our company due to personal or family relocation. We understand that life outside of work is a top priority and we want to support our employees as they navigate important life transitions.
"As my elder daughter was nearing kindergarten age, my wife and I began to grapple with conflicting desires of living closer to extended family and continuing a job I love at a great company. Luckily, EQT did not force me to choose between my career and family, allowing me to continue in my role even after moving out of state".
-Corey Broton, Director STAQ, EQT Corporation

Additionally, consistent with our corporate values of Trust, Teamwork, Heart, and Evolution, we maintain an "equity-for-all" program, under which each of our employees receives an annual long-term equity incentive grant in the form of restricted stock units. The stock grants under this program are in addition to, and not in lieu of, the existing compensation opportunities for our employees. We believe this program helps promote internal pay equity, recognizes the contributions of all our employees, and enhances our shared culture of success.
Employee Benefits
Ensuring employees have the resources and support they need to live a healthy life is critical for sustaining a workplace of choice. In addition to competitive compensation, we offer a comprehensive suite of employee benefits — including company-subsidized medical, dental, and vision insurance. We also continue to offer comprehensive family benefits, including 80 hours of paid paternity leave and 12 weeks of paid maternity leave for both birth and adoptive parents in addition to our in vitro fertilization benefit. Both aspects of our family leave policy go beyond legal obligations, as the United States has no legal requirements for paid parental leave. Other notable employee benefits include flexible work arrangements, paid time off to volunteer, and a vacation donation program where employees can offer paid vacation days to a colleague dealing with a serious personal situation that requires them to take off significant amounts of time from work that would not be covered by existing leave benefits. All of our employees receive a minimum of four weeks of paid vacation.
2021 Employee Benefits
Healthcare
Insurance
Financial
Lifestyle

Medical*
Dental*
Vision*
In vitro fertilization benefit

Life insurance (company paid)*
Accidental death and disability (company paid)*
Short-term disability (company paid)*
Long-term disability (company paid)*
Business travel accident (company paid)*
Optional life insurance — employee, spouse, child*

Relocation assistance
Company match on contributions to 401(k) retirement savings (up to 6% of eligible compensation)*
Company contribution to 401(k) retirement savings (3% of eligible compensation)*
Employee Stock Purchase Plan*
Equity for All employee stock grant program*
Health Savings Account*
Credit Union*
Severance pay

Minimum four weeks paid time off
Education assistance program
Flexible work arrangements and optional 9/80 work schedule
Paid leave of absence
Extended unpaid leave of absence
Vacation Donation Program
Employee Assistance Program*
Extended family and medical leave (includes maternity/paternity leave)
Adoption benefit
Infertility benefit
Commuter reimbursement accounts*
Wellness programs*
Foundation Donation Program
Matching gift program — 100% match up to $50,000 per year
Fully remote work and relocation opportunities
*These benefits are not available to part-time employees. Part-time employees scheduled to work for at least 20 hours each week are eligible for all other benefits.

Employee Wellness
In addition to our formal benefits package, we offer the EQT Take Charge wellness program, sponsored by one of our health service providers. Take Charge offers personal health coaching, wellness information, health management programs, newsletters, and employee educational sessions conducted by medical professionals during work hours. The program is designed to aid employees and their families in managing personal health and wellness issues. In addition, we contribute $750 annually to each employee's Health Savings Account, with additional opportunities for company-contributions upon the completion of a wellness coaching conversation.
Complementing Take Charge is our Employee Assistance Program, which offers additional wellness and lifestyle services — including confidential short-term counseling and treatment programs and referrals to providers with expertise in family and relationship counseling, elder care, money management, and legal problems. We pay in full for up to five in-person counselor visits. Any employee, including part-time employees and those who waive our medical coverage plus anyone living in their household, can take advantage of the Employee Assistance Program and its additional resources.
We protect our employees' privacy by ensuring that individual results remain confidential and third-party providers supply only aggregated information for analysis purposes.
Employee Engagement
With the majority of our employees working remotely in 2021, our workforce continued to remain connected through various virtual and in-person events. For example, we hosted multiple community "hashtag events" in our digital work environment to encourage employees to share their summer travels. We also hosted our inaugural Evolution Day event — a day to celebrate our evolution, which began with our 2019 management transition — with our entire employee base. Evolution Day began with employees gathering at 13 volunteer events in the communities where they live and work and taking part in community service events. We also hosted virtual volunteer opportunities for employees who could not join in person. After, participating employees gathered for community picnics in Pennsylvania and West Virginia and our management teams brought lunch to our field employees who could not leave site operations. Our Chief Executive Officer traveled around to the volunteer events, picnics, and sites to meet with employees.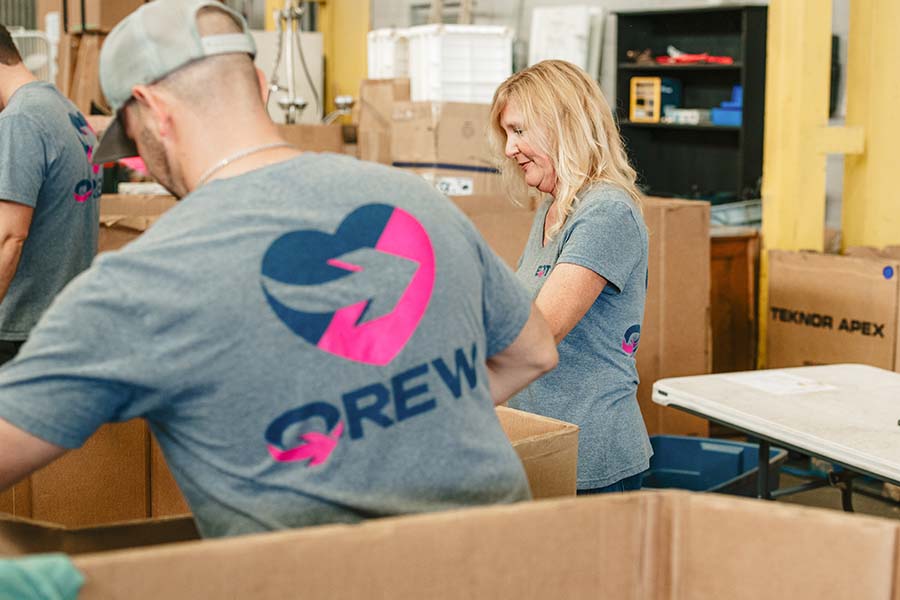 To encourage transparency and a sense of community from the top down, our Chief Executive Officer hosts various question and answer sessions with our entire employee base to discuss our strategy directly. We actively explore ways in which technology can help us build and sustain our winning culture. In early 2022, we launched a metaverse virtual meeting space that creates a truly immersive experience by unlocking social interactions and giving all employees access to one another in a manner similar to a physical office. We are committed to keeping our employees engaged, retained, and passionate about the work we do.
Employee Development
During an employee's tenure, we aim to provide the resources needed to enhance their skills and knowledge and to promote a culture where employees feel empowered to advance their education and career. This begins with our new-hire orientation, where employees learn about our culture, organization, benefits, performance expectations, and other available resources to help them succeed from their first day of employment. Orientation also reinforces our commitment to workplace safety, ethical conduct, and environmental stewardship. Our employee onboarding is offered 100% online through Salesforce Trailhead, which has received positive feedback from recent new hires. Following orientation, employees receive additional training, as needed, to develop the skills necessary to perform their job tasks safely and effectively. This includes mandatory and work-specific trainings in addition to the opportunity for optional participation in various seminars, workshops, and certification programs in an effort to ensure that employees remain continually prepared to perform their job tasks at the highest level.
Employees routinely work with their managers or supervisors to identify other appropriate training opportunities as they grow their careers. Employees have access to digital learning modules, which offer development opportunities covering a wide range of topics — such as supporting mental health, working on cross-functional teams, and developing habits for improving performance. Some employees may seek to expand their formal education and our Tuition Reimbursement Program (formerly Education Assistance) provides financial assistance to those who enroll in degree programs and satisfy established grade requirements. Our Tuition Reimbursement Program reimburses 100% of eligible education expenses up to $5,250 and 70% of all eligible education expenses thereafter. Undergraduate and graduate programs and online programs are covered under the program, provided a business case can be made for why program completion will benefit the employee and us.
We conduct quarterly performance reviews to promote an ongoing feedback culture for all employees. One of these reviews includes "360-degree" feedback, where employees can request feedback from individuals at all levels and departments. In addition, employees participate in formal development planning with their direct managers to discuss aspirations and development gaps in experience and/or skillsets. These discussions are intended to foster success in the employee's current role and identify additional responsibilities and opportunities. In 2021, we implemented a process pursuant to which employees rate the effectiveness of their performance review as well.
As our employees near the end of their careers, we also provide training and additional resources to aid them in their transition from active employment. Our independent 401(k) plan administrator offers online courses, one-on-one meetings, and telephone advice about retirement options. We also help retiring employees to navigate the digital health insurance marketplace as they seek to transition their health insurance providers.
In 2021, we used market analysis to update employee job descriptions to better reflect the responsibilities associated with each role at EQT and across the industry. We also developed career ladders so that employee upskilling and career progression is more transparent across all employee levels. Taking into account employee survey results in 2021, we are working to continue building a robust learning and development strategy in 2022.
Diversity and Inclusion
We firmly believe that diversity of backgrounds, education, and skillsets among our employees supports a successful workforce and improved performance. We strive to recruit the best available talent — including qualified candidates who are racial and ethnic minorities, veterans, disabled persons, and LGBTQ+ and candidates from all age groups and genders. For example, we continue to work with Diversity Pennsylvania and other organizations committed to growing diverse workplaces to promote our job openings and support a diverse applicant pool.
Our transition to a predominately remote work environment beginning in March 2020 has also enabled us to expand our search for talent nationally. Approximately 70% of our employees work remotely, with 93% residing in Pennsylvania or West Virginia; however, approximately 14% of our new hires in 2021 reside in states outside of our primary operating area of Pennsylvania, Ohio, and West Virginia. While we continue to seek and hire qualified candidates from our local communities, we anticipate that our flexible work arrangement policies and remote work opportunities will continue to allow us to broaden our talent search beyond our core operating area, helping ensure that we have access to diverse, highly qualified talent.
In 2022, we continued our "Modern Intern" program, which we rolled-out in 2021, to attract and build our talent pipeline. We surveyed our department managers to understand which of our departments were best suited to host interns and identified top national programs, local programs, and diversity programs to attract a diverse pool of intern candidates. We received extremely positive feedback from our first cohort of interns in 2021. Each noted that they would consider a full-time position with us in the future and that they would recommend their internship experience to a friend. Approximately 22% of the interns selected for our 2022 summer program are racially diverse and 44% are women. We anticipate that the implementation of virtual internships will also enable us to continue to tap into more diverse geographies and involve more students with the energy industry in the future. We also hope to grow the pool of diverse candidates interested in our industry by providing learning programs and opportunities to visit our sites to students in local school districts. Our intent is for initiatives such as these to foster students' interest in potential careers in our industry and with us, growing our diversity organically.
Our digital work environment enables us to more easily connect individuals across EQT and promote inclusivity. Not only have employees regularly used our digital work environment to message one another, to discover shared connections with colleagues, and to post articles, comments, and photos, they have also indicated that they feel more connected and included within their department and at EQT than they did prior to the implementation of our digital work environment.
Furthermore, we believe that our flattened organizational structure enables more employees to be seen and recognized individually for the value that they create. Employees routinely work with leaders and personnel outside of their department, gaining increased opportunities for learning and exposure and furthering their career development.
2021 Employee Diversity[1]
2021 EMPLOYEE DIVERSITY


Gender
100%
90%
80%
70%
60%
50%
40%
30%
20%
10%
0%

Executive
Officers

Senior
Management

Supervisors/
Managers

Exempt
Professionals

Non-Exempt
Professionals
Age
100%
90%
80%
70%
60%
50%
40%
30%
20%
10%
0%

Executive
Officers

Senior
Management

Supervisors/
Managers

Exempt
Professionals

Non-Exempt
Professionals
Other Indicators
100%
90%
80%
70%
60%
50%
40%
30%
20%
10%
0%

Executive
Officers

Senior
Management

Supervisors/
Managers

Exempt
Professionals

Non-Exempt
Professionals
Our efforts in creating a more inclusive organization are part-and-parcel with our overall approach to maximizing human capital. Consistent with the cultural foundation of our organization, we are committed to continually improving the diversity of our employee base. While headwinds exist in growing our diverse employee base — both in low turnover limiting opportunities to attract more diverse candidates and operating in a region that does not have a significant minority workforce, we are focused on improving. We believe that our flexible work approach and remote work practices will support our efforts for improving our workforce diversity. In 2021, 19% of our new hires were women and 7% identified as being part of a minority population.
Equitable Pay
As transparency and accountability are cornerstones of our garnering trust with our stakeholders, in 2019 we began disclosing our gender pay ratios (calculated by dividing the average base salary and remuneration[2] for women by that of men) in accordance with Global Reporting Initiative standards.
Gender Pay Ratios
| | | | |
| --- | --- | --- | --- |
| | 2019 | 2020 | 2021 |
| Executive Officers | 66.2% | 74.5% | 74.1% |
| Senior Management | 89.5% | 86.5% | 90.6% |
| Supervisors/Managers | 80.6% | 94.1% | 94.7% |
| Exempt Professionals | 87.5% | 82.2% | 80.7% |
| Non-Exempt Professionals | 82.2% | 87.0% | 85.1% |
We are committed to ensuring that our organization provides fair and equitable pay that is in line with market rates for our industry and region. Given our goal of maintaining a relatively flat organization, our compensation structure is market-based with compensation tailored to competitive rates focused on job‑specific duties and scope of responsibility. This is as opposed to compensation being based upon an employee's title or level within the organization. Market rates based on job responsibility vary significantly, which is why regulatory agencies typically look at compensation related to responsibility as opposed to title. In a flat organization, similarly titled employees can have significant variation in market compensation. The pay gaps noted in the chart above can be attributed to the relatively low numbers of women to men in each of the broad categories provided and differences in market rates among roles within each of such categories.
For information on the diversity breakdown of our Board of Directors, see Corporate Governance.
Supplier Diversity
We seek out small and diverse local suppliers whenever possible to strengthen our ability to deliver strong performance to our customers and communities through a strategic sourcing approach supported by our Board of Directors and management team. We consider diverse suppliers as those that are Minority Business Enterprises, Women's Business Enterprises, and/or Veteran Owned Businesses. Further, we encourage our top vendors to consider diverse subcontractors as it helps these businesses develop relevant experience and provides us with additional opportunities to work with diverse businesses which we may not otherwise have had the opportunity. We maintain dashboards in our digital work environment to track diverse service provider spend to identify targeted outreach opportunities and we integrate supplier diversity goals within our standard procurement practices to inform a broader reaching‑, competitive, and data-driven approach to awarding business. We continue to expand our diverse supplier universe through targeting diverse suppliers in our bidding processes and setting goals for increasing diverse supplier utilization. Our targeted procurement initiatives include the following:
Encouraging top suppliers to seek out and include diverse businesses in their bids and as part of their proposed scope of work;
Giving greater consideration to vendors who identify how they will utilize diverse sub-vendors;
Conducting meetings with our top contractors to provide supplier diversity education, outline reporting requirements for subcontracting with diverse suppliers, and identify specific products purchased by the top contractors to help align them with diverse firms selling those products; and
Requesting that our top contractors provide their monthly spend with diverse subcontractors and local suppliers.
In 2021, we spent just over $70 million — 8.4% of our supplier spend with non-publicly traded companies — with minority-owned businesses. We have awarded bids to diverse businesses in more than 113 supplier categories — an increase of 95% compared to 2020, nearly doubling the opportunities for EQT to work with diverse service providers.
[1] Minority population includes American Indian/Alaska Native, Asian, Black/African American, Hispanic or Latino, or any employee disclosing two or more races.
[2] "Remuneration" includes all forms of compensation (other than base salary) that are reported on an employee's Form W-2.
How We Are Doing
Our HR team reviews and evaluates our employment and diversity and inclusion programs on a regular basis. During these evaluations, we confirm compliance with applicable laws and regulations and assess whether our programs remain competitive with the external labor market and align with our values. When reviewing our programs, we consider the following:
Feedback from exit interviews;
Annual employee engagement surveys;
Internal feedback provided by our workforce through our digital work environment;
Turnover rate;
Internal assessments of diverse representation;
Internal assessments of compensation and benefit plans;
Benchmarking of peer companies in our industry; and
External employee ratings and reviews.
EQT was named a National Top Workplace by Energage in 2021 and 2022
We also leverage succession planning to identify and mitigate human capital risks. Our management team reviews these evaluations and may adjust existing programs or develop plans to address any areas of concern that arise.
In 2021, we hired 137 employees across our operations.
New Hires
Gender
Gender
100%
90%
80%
70%
60%
50%
40%
30%
20%
10%
0%
Region
Region
100%
90%
80%
70%
60%
50%
40%
30%
20%
10%
0%
Age
Age
100%
90%
80%
70%
60%
50%
40%
30%
20%
10%
0%
Race and Ethnicity
Race and Ethnicity
100%
90%
80%
70%
60%
50%
40%
30%
20%
10%
0%
For full-time employees, we offer two weeks of paid leave for fathers and 12 weeks of paid leave for mothers following the birth or adoption of a child. We offer similar benefits to part-time employees on a pro-rated basis. Our retention rate for employees taking parental leave in 2021 was 100%.
2021 Parental Leave
| | | | |
| --- | --- | --- | --- |
| | Male | Female | Total |
| Eligible | 518 | 175 | 693 |
| Not eligible | 0 | 0 | 0 |
| Took parental leave | 15 | 5 | 20 |
| Returned to work | 15 | 5 | 20 |
| Return to work rate | 100% | 100% | 100% |
| Retention after 12 months | 15 | 5 | 20 |
| Retention rate | 100% | 100% | 100% |
100% of our employees received at least one formal quarterly performance review in 2021. We believe our quarterly reviews and varying types of review processes help employees have proactive conversations with their supervisors, identify areas for growth and engagement, and obtain comprehensive feedback.
Turnover (Voluntary)
Region
Region
100%
90%
80%
70%
60%
50%
40%
30%
20%
10%
0%
Gender
Gender
100%
90%
80%
70%
60%
50%
40%
30%
20%
10%
0%
Age
Age
100%
90%
80%
70%
60%
50%
40%
30%
20%
10%
0%
Our 2021 voluntary turnover decreased by 15% compared to 2020, likely due to employees settling into new roles following our 2019 workforce realignment. In addition, the new relocation request benefit we began offering in 2020 has enabled us to retain employees that otherwise would have left upon relocating outside of our primary operating area.