Natural Gas and the Global Economy
Natural gas represents a critical component of the domestic and global energy supply mix, as it is readily available, affordable and reliable. In the United States, the shale revolution has unlocked an abundant supply of low-cost natural gas. The benefits of the revolution have been meaningful, both in spurring the domestic economy and in maintaining reduced power and heating costs for consumers. One of the most meaningful benefits, however, has been the impact on greenhouse gas (GHG) emissions. According to the U.S. Energy Information Administration, natural gas consumption has reduced domestic carbon dioxide emissions to 27-year lows — and this decline is projected to continue — principally attributable to the large-scale replacement of coal-fired power plants and the expansion of renewables.
During this same time period, the United States transitioned from a net importer to a net global exporter of natural gas.[1] Not only does the export of domestically produced natural gas allow the United States to limit the geopolitical influence of other major producers like Russia, it also allows the United States to influence transparency of operations and environmental impact on a growing portion of the global energy supply mix, thereby increasing the United States' impact on achieving global climate goals.
Furthermore, natural gas will continue to play an important role in the impact of energy on social equity locally, nationally and abroad. Our operations are principally concentrated in Southwestern Pennsylvania, Southeastern Ohio and Northern West Virginia — areas historically characterized as lower socioeconomic regions. Responsible development of natural gas has led to an infusion of a significant amount of capital in our operating areas, both to landowners and the broader communities, and has served as an engine for improving the quality of life in these regions. On a national scale, natural gas represents one of the most abundant, low-cost, low-impact, reliable base loads for power, tamping down power costs — a meaningful expense for underprivileged Americans — over the past two decades despite a significant increase in the overall demand for power. Internationally, with the export of liquefied natural gas (LNG), domestically produced natural gas has the opportunity to expand these benefits to other underprivileged regions of the world.
1 https://www.eia.gov/energyexplained/natural-gas/imports-and-exports.php
Our Strategy
As the largest producer of natural gas in the United States, EQT will have an influential impact on the continued trajectory of this vital energy source. Our goal is to be the operator of choice for all stakeholders.
Promoting and investing in sustainable practices creates value for EQT and our stakeholders and lessens our impact on the environment and our communities, all while creating process efficiencies. Examples include working to lower our emissions and impact on land, maintaining transparent relationships with communities and landowners, and engaging with and supporting the safety of our employees and contractors. To that end, we pursue responsible development in a way that minimizes our environmental impact while maximizing efficiencies. We are one of the lowest-cost producers of natural gas in the United States, and believe our environmental, social, and governance (ESG) strategy will be an integral part of our success for EQT and our stakeholders.
Over the last year, new leadership has overseen a transformation of EQT that has resulted in an approximately 30% decrease in our Pennsylvania Marcellus well costs and an approximately 25% reduction in our general and administrative costs while preserving our core inventory. We achieved this step-change in operating costs by retooling a 130-year-old company into a modern, digitally-enabled organization capable of executing on a development strategy unique among our peers.
Combo-Development
Our operational strategy — which we refer to as combo-development — focuses on developing multiple multi-well pads in tandem, thereby generating value through efficiencies and reducing our environmental footprint. In today's "value over volumes" environment, the differentiating factor among upstream operators is operating efficiencies. Operators are targeting the maintenance of flat to low growth in production volumes, and accordingly are targeting development opportunities that can achieve the additional needed production volumes to offset existing well declines at their lowest costs.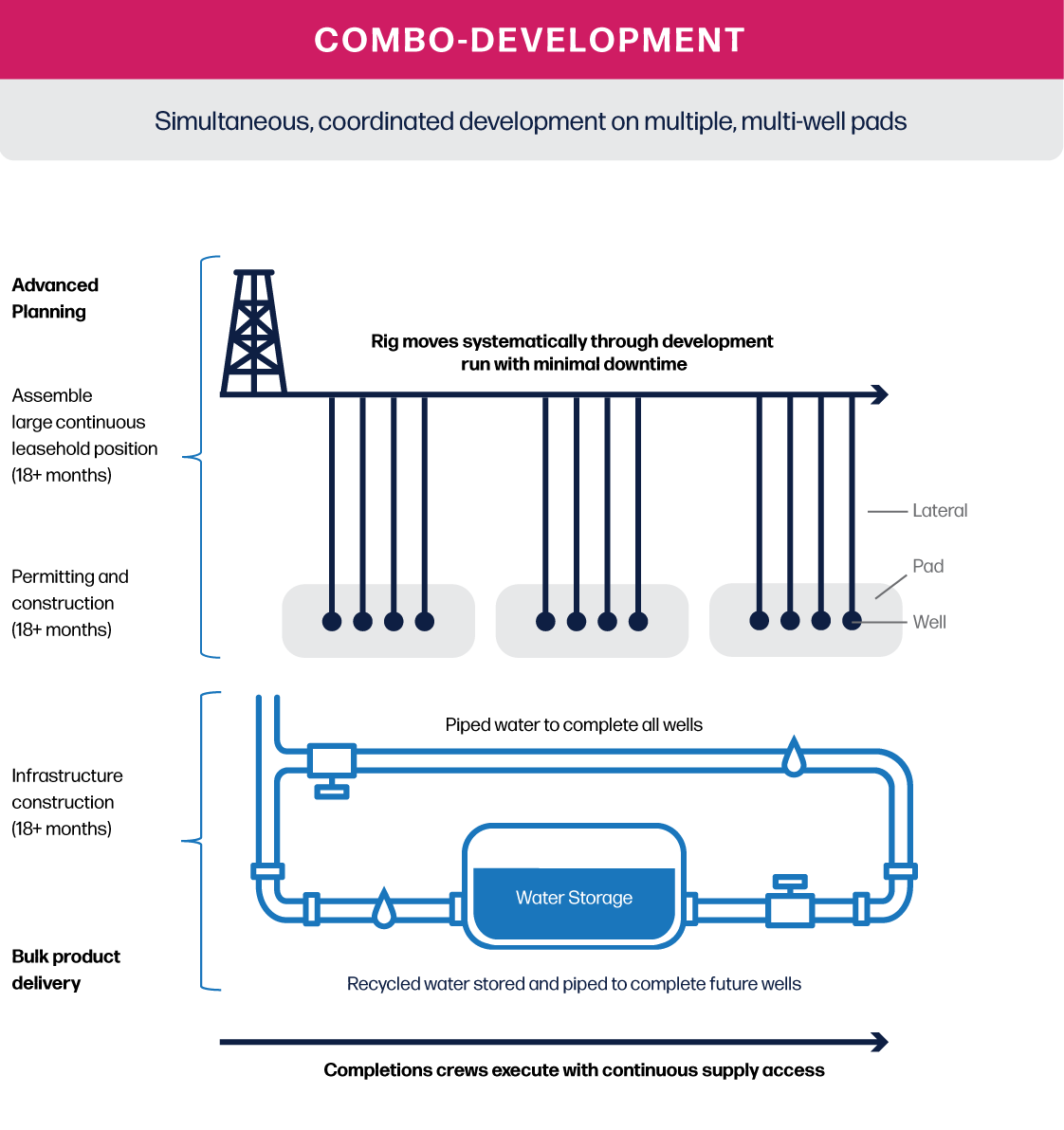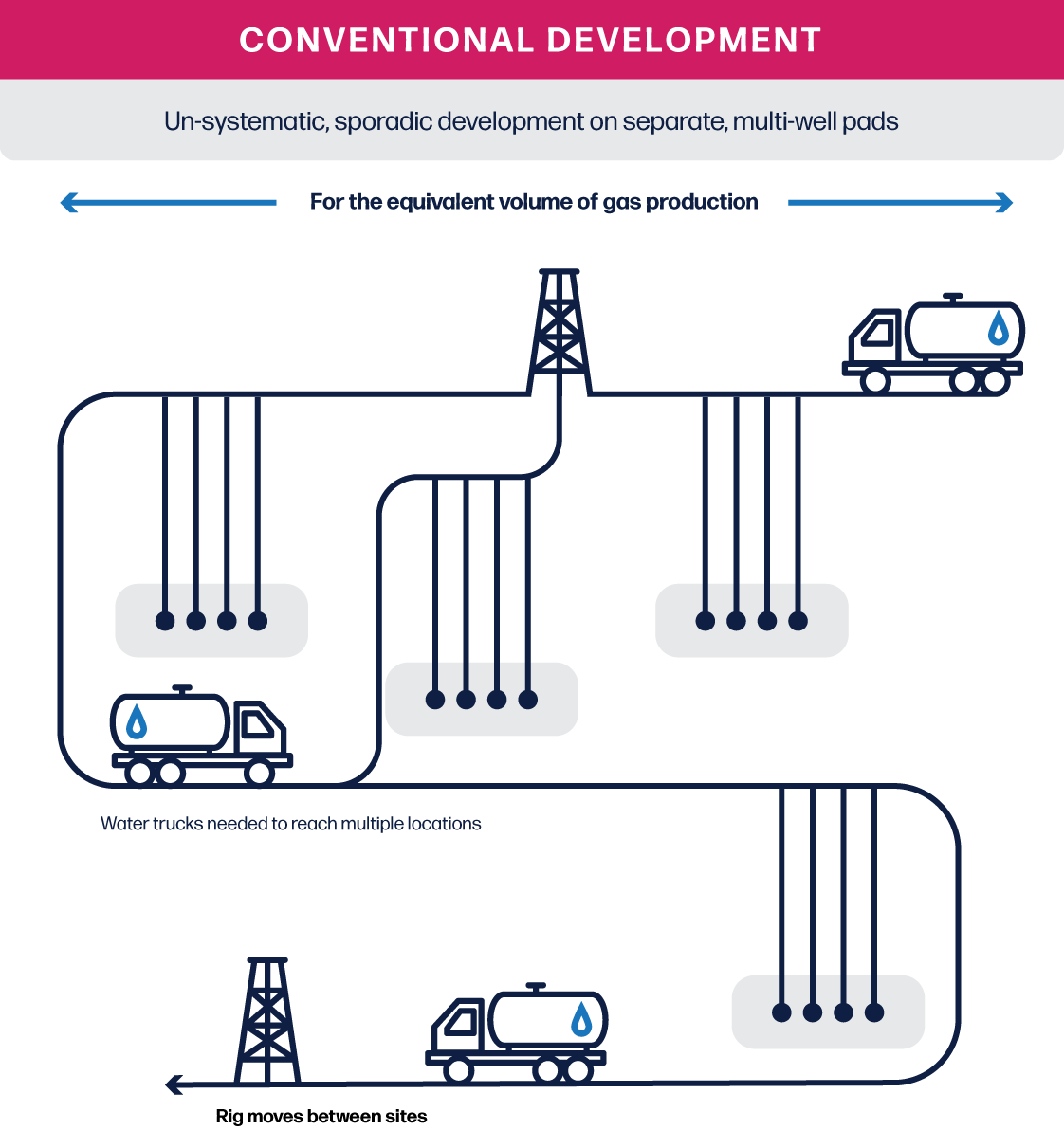 Over the course of one year, the shift to combo-development has resulted in an approximately 30% improvement in our drilling operations and an approximately 20% improvement in our fracturing operations.
Coordinated development of multiple multi-well pads allows for efficiencies across all levels of the development process. In the drilling stage, rigs spend more time drilling and less time transitioning to new sites. Advanced planning allows for delivery of piped fresh water (as opposed to trucking water) and bulk hydraulic fracturing (frac) sand, increasing completions crew efficiencies by ensuring continuous availability of supply needs, as well as the ability to use more environmentally friendly technologies. We are also able to pass the benefit of efficient development on to our service providers, reducing overall contract rates by maximizing supplier efficiencies, as seen in our renegotiated midstream services agreement with Equitrans Midstream Corporation in early 2020. In essence, combo-development represents a similar step-change in efficiency improvements to those seen throughout the industry in the first evolution of shale development, as companies transitioned from single well development to pad development.
The benefits of combo-development are not merely financial. They extend to environmental and social impacts as well. When compared to development of similar production from non-combo-development operations, combo-development translates into fewer trucks on the road, less fuel usage, shorter periods of noise pollution, fewer areas impacted by midstream pipeline construction and shortened duration of site operations, thereby enabling a greater focus on safety and environmental protection. These are only a few of the direct impacts. From an indirect standpoint, combo-development provides opportunities to invest in new, environmentally friendly technologies, such as electric frac fleets, hybrid drilling rigs and next generation wellhead connection units, each of which we have deployed in the last year.
The combo-development evolution, however, will not be accessible to all of our peers. Combo-development requires significant advanced planning — establishing a large, contiguous leasehold position; receiving regulatory permits; and ensuring timely midstream connectivity and advanced sourcing of products such as frac sand and water. Being able to plan for development three to five years into the future, and to quickly respond to internal and external stimuli, are prerequisites to pursuing combo-development. Without a modern operating model to allow such response, and without an acreage position to allow operations of this scale, combo-development is impossible.
We believe that our refocused operational strategy uniquely positions EQT to provide peer-leading operating costs. Furthermore, for the reasons outlined above, it is our expectation that we will see a similar step-change in our environmental impact as we have seen in operational costs. We are committed to driving sustainable value creation and being the operator of choice for all of our stakeholders.
100-Day Plan
Starting in July 2019, new leadership began executing on a 100-Day Transformation Plan to evolve EQT into a modern, digitally-enabled company to allow us to realize our full potential. The plan's overall goal was to build a foundation for a modern operating model capable of executing on a combo-development strategy.
Focus Area

Initiative

Operations

Effective planning to execute large-scale development projects
Execute proven well designs on time, on budget
Leverage EQT's scale to lower per unit costs

Organization

Ensure we have the right people
Build culture to align with vision
Structure workforce to ensure accountability and collaboration

Technology

Digitally connect workforce to streamline "Insight to Action"
Leverage oilfield tech to evolve field operations
Unleash innovation at scale
Over the next several months, we successfully executed the plan, reducing our general and administrative costs by approximately 25% while preserving our core inventory. The plan effectively set a foundation for our future success, allowing us to deliver shareholder value in alignment with our overall strategy. See below for details related to our three focus areas.
Operations
Our operational strategy involves the execution of large-scale combo-development projects and investing in land and permitting to create a more streamlined operational plan that enables us to develop multiple wells and pads simultaneously. We strive to maximize the efficiency of our operations in order to realize the full potential of our world-class assets. As described above, focusing on combo-development projects to maximize operational efficiencies is critical to our operational strategy, and we believe it will reduce costs, reduce our environmental footprint, improve safety on our work sites, increase efficiencies, maximize reservoir recoveries, mitigate future curtailments and maximize the capital efficiency of our midstream service providers. We believe this practice will also differentiate EQT from our peers and ease planning processes. As described in Landowner Relations, this involves maintaining close and trusting relationships with our landowners to ensure they understand our objectives and that their concerns are addressed.
We expect to drill approximately 13 to 25 wells per combo-development project, with average lateral lengths from 12,000 to 14,000 feet. We have deployed proven well designs across an efficient schedule to allow us to leverage our leasehold and infrastructure, laying the framework for successful execution in the field and sustainable performance.
Organization
Establishing cultural changes across an organization is dependent on effective leadership. Our management team has the proven leadership capabilities, experience and knowledge to run a modern natural gas company. An integral component of running a modern natural gas company aligned with our operational strategy is establishing a culture that promotes transparency, inclusiveness, accountability and meritocracy. In an operational model that focuses on being able to respond quickly to internal and external stimuli, a premium is placed on democratizing data and spreading information to those that need it. We call this taking "insight to action," connecting all levels of the organization to ensure that the right information and right ideas translate into the right action by the company regardless of its source.
To facilitate this approach, we began to align our workforce to match frontline needs in 2019. We added proven leaders across the organization, ensured that we have capable staff and balanced the workforce to execute our current goals and future strategies. We instituted a proven, function-based organizational structure by restructuring our departments and roles to ensure accountability and alignment with our mission, significantly reducing the number of departments within the company and substantially flattening the organizational structure. Reporting lines remain, but our digital work environment — see Technology below — allows for transparency across the entire vertical and horizontal organization of the Company to allow experts' connectivity to the day-to-day decision-making both within their reports and in other departments. And we established and communicated our values of Trust, Teamwork, Heart and Evolution to guide our decision-making and evolve our workforce to become a values-driven organization.
The net result is not only a benefit to the Company, but also a benefit to our employees. The combination of proven leaders, radical transparency, defined alignment and infused technological support is allowing our employees to be engaged, seen, educated, supported and rewarded. Most importantly, it allows our employees to see how their efforts connect to the value creation of EQT.
Read more about our approach to managing our workforce in Talent Attraction and Retention, Diversity and Inclusion.
Technology
Investing in and using the right tools and technologies increases efficiencies and promotes internal transparency. In 2019, new management supported significant investments in technologies that connect our business, drive sustainable performance and prepare us for the future. This began with establishing our digital work environment for all employees to communicate and collaborate with one another, collect and share data and monitor performance.
Our digital work environment serves as a cloud-based platform for online communication, a means for creating data and insights, and a hub for integrating work processes and outputs. The digital work environment not only eliminates organizational silos, it connects our employees with the data and processes needed to quickly and effectively perform their job function, and ensures that we have a unified and transparent view of operational data that drives decisions.
The digital work environment is more than a back-office tool to promote communication. As the foundation of our modern operating model, all of our efforts on the operational front are geared towards connecting data from the field in real time to influence decision-making. For instance, in 2019, we changed our operating practices from a manual check-in of employees and contractors at guard stations on sites to digital tracking and integrated that data into our digital work environment. Having this data at the ready proved pivotal in 2020 with the COVID-19 outbreak, allowing us to create a contact tracing insight in a matter of days that facilitated our rapid notification of potentially impacted personnel within hours of learning of a positive test.
While the benefits of ensuring employee and contractor safety are paramount, the data-creation focus of our organization extends across our operations, allowing us to provide users with the information they need to make smart, responsible decisions as quickly as possible. It also allows us to monitor trends, assess performance and identify areas for improvement and investment in future opportunities.
As a leader in technology in our industry, we actively explore new technologies to continue to leverage our understanding to create value for EQT. Read more about our investments in technology throughout this report and in Technological Innovation.
ESG Strategy Underpins Corporate Strategy
We began developing an integrated ESG program in 2019 to execute our mission to become the operator of choice for all stakeholders. Core tenets of this strategy are investing in technology and human capital; improving data collection, analysis and reporting; and engaging with stakeholders to understand their needs and expectations and aligning our actions accordingly.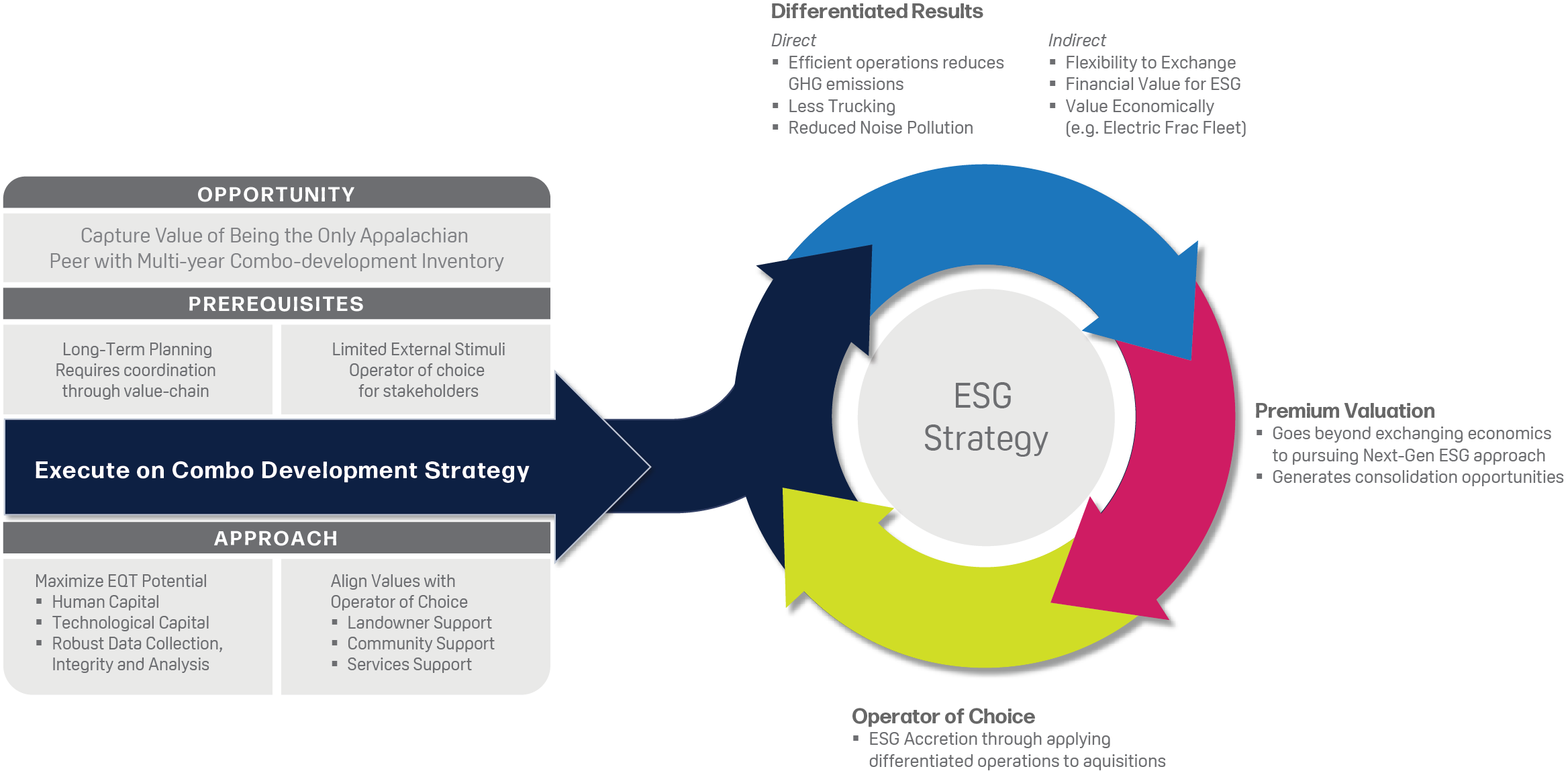 Our long-term transformative plan is designed to promote sustainable value creation by differentiating ourselves from our peers in both operational performance and environmental impact. By leveraging our unique ability to pursue combo-development projects, we believe we will be able to set ourselves apart from our peers, thereby allowing for continued reinvestment into ESG initiatives.
For more information related to ESG governance, see Corporate Governance.
Our Impact
We track the indirect economic impacts of our business operations on the United States economy by annually commissioning an independent analysis. According to the analysis, EQT provided $2.9 billion in value-added contributions to the U.S. Gross Domestic Product (GDP) where:
77%

of contributions occurred in three states where we operate

23%

of contributions related to out-of-state suppliers who provided goods and services for operational activities in our operating area
EQT GDP Contributions (millions of dollars)
EQT GDP CONTRIBUTIONS (MILLIONS OF DOLLARS)
5000

4000

3000

2000

1000

0
$4,564

$1,335

$190

$11

$3,028

$4,436

$1,960

$790

$114

$1,572

$4,663

$2,539

$405

$624

$1,095

2016

2017

2018

2019
See additional information related to local indirect economic impacts in Community Impacts and Safety.