Natural Gas and the Global Economy
Natural gas represents a critical component of the domestic and global energy supply mix, as it is readily available, affordable and reliable. In the United States, the shale revolution has unlocked an abundant supply of low-cost natural gas. The benefits of the revolution have been meaningful, both in spurring the domestic economy and in maintaining reduced power and heating costs for consumers. One of the most meaningful benefits, however, has been the impact on greenhouse gas (GHG) emissions. According to the U.S. Energy Information Administration, since 2007, energy-related domestic carbon dioxide emissions have decline at an average pace of 1.3% per year — principally attributable to the large-scale replacement of coal-fired power plants and increased use of natural gas and renewables.[1]
During this same period, the United States transitioned from a net importer to a net global exporter of natural gas.[2] Not only does the export of domestically produced natural gas allow the United States to limit the geopolitical influence of other major producers like Russia, it also allows the United States to leverage its robust regulatory environment — as well as the elevated level of transparency and the relatively low environmental impact of its operators — to justify and command a greater market share of the global energy supply mix, thereby increasing the U.S. impact on achieving global climate goals. We believe that our actions in seeking to obtain certifications for responsibly sourced natural gas add further credence to the case for domestically produced natural gas as a result of the amount of interest we have seen from potential international purchasers.
Furthermore, natural gas will continue to play an important role in the impact of energy on social equity locally, nationally and abroad. Our operations are principally concentrated in Southwestern Pennsylvania, Southeastern Ohio and Northern West Virginia — areas historically characterized as lower socioeconomic regions. Responsible development of natural gas has led to an infusion of a significant amount of capital in our operating areas, both to landowners and the broader communities, and has served as an engine for improving the quality of life in these regions, as described in Local Impacts. Our operations also positively affect disadvantaged groups in the United States.
Accelerating the Low Carbon Transition
We recognize the risks and opportunities that climate change poses to our business and have developed a strategy for how we can best counter the effects of both transition and physical risks. This strategy is underpinned by our values; represents the short-, medium- and long-term opportunities for our organization; and is built on two foundational beliefs.
Belief 1: Natural gas is critical to accelerating a sustainable pathway to a low carbon future
Natural gas is a critical commodity in facilitating the growth of renewables as a portion of our global power supply domestically and globally. Among sources of continuous, reliable power, natural gas leads in its combination of accessibility, lower environmental impact and exportability. As we have seen with recent power shortages, natural gas has served as a necessary fuel source, filling the gap left with the intermittency of renewable power. As the United States scales renewable power, while awaiting technological breakthroughs, the volatility of demand within the power sector on non-renewable power will only increase.
Furthermore, rapid replacement of coal-fired power generation with natural gas-fired generation represents the "lowest hanging fruit" in meaningfully accelerating our pathway to decarbonization, especially in the eastern United States.
A majority of the anticipated doubling of the renewable power share of the U.S. electricity generation mix by 2050 is projected to be attributable to solar power. The benefits of this increased renewable share can be seen through the reduction in the generation mix share held by coal — the highest GHG intensive component of the U.S. electricity generation mix. However, the ability and pace at which the United States can replace coal-fired power generation with renewables will face headwinds in areas where replacement is most needed, as approximately 70% of coal-fired power generation is located in regions characterized as having low renewable power-potential.
For instance, solar panels in the Northeast and the Southeast United States are approximately 15% and 50%,[3] respectively, as effective as solar panels in the Southwestern United States. As such, up to eight times the materials and acreage would be needed to generate the same amount of energy from a solar panel in other parts of the United States as it would in the Southwest. This reduced efficacy not only impacts the economics of a solar project, but also the reliability of the power generated thereby.
U.S. Solar and Coal Resource Availability

[4]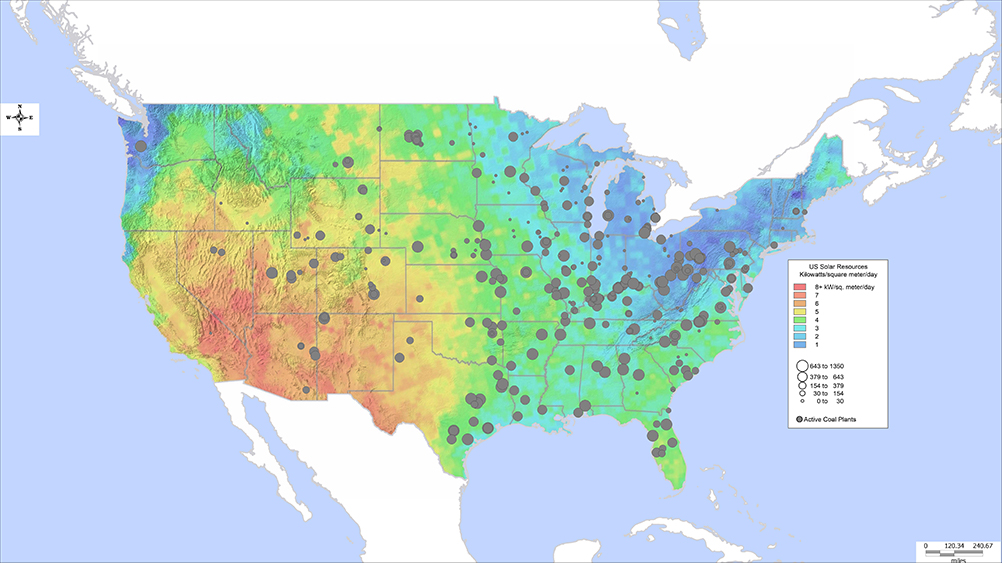 To put this into context, replicating the power generation potential of EQT alone would require covering an area roughly the size of Delaware with solar panels, assuming a nationwide average solar capacity of 25%. Further, absent meaningful advancements in battery technologies, this state-wide solar farm would still require a supplementary reliable baseload power (such as natural gas, nuclear or coal). Luckily, however, an alternative carbon reduction opportunity exists in the very geographic location where a solution is most needed, and that is low-cost, low-carbon intensity Appalachian natural gas.
Belief 2: Natural gas, and in particular Appalachian natural gas, will differentiate itself
As the debate about the energy future plays out, we believe greater differentiation will occur between natural gas and oil, and basin-specific supplies. We believe there will be a decoupling of "oil and gas," not in the historical sense regarding relative price, but in a fundamental sense between natural gas-focused companies and oil-focused companies. While their production methods are similar, the consumption of their products — and the pathways to most effectively decarbonize that consumption — differ.
As exhibited in the charts below, emissions intensities of natural gas and oil companies differ starkly. While we believe all are working to reduce their intensities, natural gas companies have a significant advantage. In addition to geology-based advantages, natural gas operators in Appalachia, such as EQT, have been at the forefront of responsible development for many years. As a result, natural gas companies, and in particular Appalachian natural gas companies, hold a meaningful advantage in the costs that will be incurred by such companies to achieve net zero GHG emissions.
2019 Methane Intensity by Basin (kg CO2e/BOE)

[5]
Methane Emission Intensity
35
30
25
20
15
10
5
0
| | | | | | | | | | |
| --- | --- | --- | --- | --- | --- | --- | --- | --- | --- |
| | | | | | | | | | |
| Marcellus | Utica | Delaware | Bakken | Haynesville | Midland | SCOOPSTACK | Eagle Ford | Barnett | San Juan |
2019 CO2 Emissions Intensity (kg/BOE)

[5]
International O&G Producer
As principal end uses differ between natural gas (power) and oil (transportation), the trajectories and cost/benefit of natural gas and oil differ as well. Moreover, the primary pathways to accelerating the low carbon transition of one product's end use (transportation) are through increased usage of the other's (power for vehicle electrification and hydrogen-based transportation). As such, we believe that as the energy transition debate evolves, and the focus on potential solutions shifts from supply to consumption, the traditional grouping of "oil and gas" companies will diverge.
Much like how we see natural gas differentiating itself from oil and coal, we see specific sources of natural gas sources differentiating from others. Production of domestic natural gas, and specifically natural gas produced in Appalachia, offers both the lowest carbon dioxide and methane emissions in the country. Furthermore, intensities of Appalachian natural gas producers are, in many instances, orders of magnitude lower than other domestic and foreign supply sources.
Appalachian natural gas offers a lower carbon intensity alternative to other importable reliable baseloads — such as coal or foreign natural gas — to support global decarbonization efforts.
[1] https://www.eia.gov/environment/emissions/carbon/
[2] https://www.eia.gov/energyexplained/natural-gas/imports-and-exports.php
[3] Based on kilowatts per square meter per day. Source: Hitachi ABB Power Grids.
[4] Source: Hitachi ABB Power Grids
[5] Source: Rystad Energy; methane intensity data was calculated as of February 2021 and emissions intensity data was calculated as of May 2021.
Our Strategy and Vision
We believe we have demonstrated, in a short time, our ability to meaningfully improve the emissions profiles of upstream operations through a modern approach to our operations. Following the implementation of new leadership in 2019, we rapidly transformed EQT from a 130-year-old firm to a modern, digitally-enabled natural gas company.
Promoting and investing in sustainable practices creates value for EQT and our stakeholders and lessens our impact on the environment and our communities, all while creating process efficiencies. Examples include working to lower our emissions and our impact on land, maintaining transparent relationships with communities and landowners and engaging with and supporting the safety of our employees and contractors. To that end, we pursue responsible development in a way that minimizes our environmental impact while maximizing efficiencies. We are one of the lowest-cost producers of natural gas in the United States, and believe our environmental, social and governance (ESG) strategy will be an integral part of our success.
vision for eqt in the energy transition
Our views on the role of natural gas in a low carbon future influence our corporate strategy. Our strategy is divided into three segments: Evolve, Consolidate and New Ventures. The execution of these strategic segments is not necessarily sequential, but each builds upon and supports the others.
Evolve focuses on realizing the full potential of the assets under our control. This evolution started in mid-2019, has progressed rapidly and can be measured by our financial and operational performance to-date. At its core, the purpose of evolution is to distinguish EQT's capabilities from those of our peers, differentiating EQT to facilitate our next strategic path.
One aspect of differentiation has been the adoption of our combo-development operational strategy, providing high confidence, predictability and improved well and emissions performance. In just two years, we have reduced our Production segment Scope 1 greenhouse gas (GHG) emissions intensity by approximately 33%, in large part as a result of efficiencies gained through combo-development. Please read more about combo-development here. For more information about the Evolve aspect of our strategy, please see Climate Change and GHG Emissions.
Another differentiation effort that we have undertaken is that of the product that we sell from an emissions standpoint. In January 2021, we entered into a pilot project with Project Canary/IES TrustWell to demonstrate that our natural gas is produced with high environmental and social standards, and that global energy market demand exists and is growing for differentiated energy products. Under the terms of the pilot, Project Canary's "Canary X" emissions monitoring devices have been installed on two of our well pads to measure methane concentrations at the site level every second and communicate the results to a cloud database every minute. The data collected from the emissions monitoring devices are independently verified and used to issue a TrustWell Certification certifying that gas produced from our participating well pads is "responsibly sourced natural gas."
Additionally, in April 2021, we entered into a separate project to obtain Equitable Origin and MiQ certification of natural gas produced from over 200 of our well pads located in Greene and Washington counties, Pennsylvania, which collectively produce approximately 4.0 billion cubic feet per day in gross volume. As part of the project, Equitable Origin and MiQ will oversee an independent, third-party audited assessment of our natural gas production from the selected well pads focusing on ESG performance, including methane emissions. When the certification project with Equitable Origin and MiQ is completed, we will be producing more certified natural gas than any other producer's total domestic natural gas production (certified or uncertified).
We believe that facilitating the establishment of a market for certified natural gas and other products that leverage our low emissions intensities and focus on sustainability will open additional opportunities for symbiotic financial and ESG value creation.
And finally, our differentiation can be seen in the aggressive targets that we have established for our company, including a target of achieving net zero Production segment Scope 1 and Scope 2 GHG emissions by or before 2025 and significant reductions in both GHG and methane emission intensities during that timeframe. For more information on our emissions targets, see GHG Emissions and Targets.
EQT's evolution starts, however, at the genetic level, namely who we are and how we operate. We have invested heavily in technological and human capital to allow us to take insight into action, ensuring that high quality structured data is readily available to inform decision-makers. This is not limited to financial and operational data. For instance, we are currently layering into our digital work environment the functionality to ascribe emissions down to the well level, allowing us to target high return on investment emissions reduction opportunities — such as a pneumatic device replacement initiative — to generate optimal value through decarbonization. Furthermore, our advancements in measuring our desktop emissions are also helping to evolve our field emissions measurement capabilities and demonstrates our commitment to best-in-class certification standards and emissions monitoring and measurement technologies. We believe our team, and the scalability of our platform, will allow us to reap similar benefits from application across a broader set of operations through consolidation.
Consolidate focuses on generating value through applying our evolved approach to a broader set of assets, allowing us to accelerate emissions reduction efforts within the natural gas space. It means strategically asserting control over a greater amount of absolute emissions in the short term based on our belief and demonstrated track record, that we can have a greater impact on the pace of emissions reductions in the medium- and long-term.
Our Chevron Acquisition is a prime example of our ability to create strong financial value while at the same time creating an opportunity to meaningfully improve our pro forma emissions profile. In furtherance of our commitment to "ESG accretion," 10% of our company-wide short-term incentive compensation program is ascribed to a targeted pro forma year-over-year 4% reduction in Scope 1 GHG emissions intensity.
We believe that other acquisitions, in particular acquisitions where we have the opportunity to replace more meaningful development operations than were present in the Chevron Acquisition, will allow us to effectuate even more outsized improvements to our pro forma operations through increased use of combo-development.
Our focus on consolidation also lays the groundwork for new ventures, increasing our market share of a key feedstock in emerging energy technologies while increasing our scale and investible assets. Natural gas is not "big oil." Unlike integrated oil and natural gas companies or pure oil exploration and production companies, we derive only a small portion of our revenues from the sale and ultimate consumption of oil. Accordingly, we are not disincentivized from pursuing decarbonization actions that affect oil consumption, such as in transportation where increased use of electric vehicles would likely result in an increase in natural gas consumption and a decrease in oil consumption (and a corresponding reduction in GHG emissions). The increased natural gas consumption would result from being directly sourced for generating electricity or indirectly sourced through new fuel cell technologies, such as blue hydrogen. However, natural gas-focused companies represent approximately less than 5% of the total market capitalization of the entire "oil and gas" industry. Natural gas needs a leader that can compete for capital and investments and help guide the energy transition to ensure that all avenues of decarbonization are diligently pursued.
New Ventures focuses on laying the foundation for the evolution of our company over the long-term through a meaningful participation in energy transition opportunities. It is our belief that not only will we have opportunities to accelerate the path to a low carbon future, but also that we will have opportunities to develop, invest in, partner with and acquire attractive new ventures to position alongside, and enhance the value of, our strong and sustainable base business.
We believe that our leadership has a demonstrable leading-edge track record in assessing and commercializing emerging technologies. Furthermore, our recent technological and cultural transformation has instilled across our organization the mentality, approach and nimbleness necessary to adapt in dynamic environments. When combined with being the largest producer of low-cost, low carbon intensity natural gas, we believe we will have a competitive advantage in decarbonization opportunities.
To this end, in 2021 our Board of Directors authorized the establishment of an innovation fund — a $75 million pool of capital — that we can use to develop, invest in, partner with and acquire new ventures or otherwise pursue initiatives aligned with our ESG strategy through 2025. Our guiding principles in allocating capital to new ventures generally center on (i) promoting natural gas demand and participating in the low carbon transition, (ii) leveraging our assets, skillsets and relationships to capture opportunities, (iii) targeting opportunities for meaningful scale and growth, (iv) deploying proven technology and (v) improving our ESG reputation.
Taken together, these strategies influence the long-term trajectory of EQT, including how we view our role in accelerating a transition to a low carbon future and how we believe we can progress towards a path that is aligned with the Paris Agreement. We believe our Evolve, Consolidate and New Ventures strategy will allow us to react nimbly and effectively as data continues to emerge and technologies continue to develop on our collective path to a low carbon future.
Our Impact
Our current management team joined EQT in June 2019 and immediately began work evolving our operations, organization and technology in order to optimize efficiency and ensure we are maximizing our assets. These efforts have translated into drastic improvements in efficiencies in a short period of time. Comparing year-end 2020 to year-end 2018, we reduced our Production segment Scope 1 greenhouse gas (GHG) emissions by approximately 32%, Production segment Scope 1 GHG emissions intensity by approximately 33%, capital expenditures by over 60%, contractor work hours by over 50% and trucks on the road by 53%.
In November 2020, we acquired Chevron's Appalachian assets. The Chevron Acquisition added existing production volumes to our business, representing approximately 9.5% of our total gross production in 2020, after adding the annualized production from the Chevron Assets to our total production. Despite this principally being an acquisition of producing volumes, and thus not having meaningful opportunities to leverage our operating model to improve operational efficiencies, we are targeting a 4% reduction in our Scope 1 GHG emissions intensity for the entire company in 2021. Achieving this 4% reduction in emissions intensity is a component of our 2021 incentive compensation program, under which our executives and other employees participate.
Local Impacts
We track the indirect economic impacts of our business operations on the U.S. economy by annually commissioning an independent analysis. According to the analysis, EQT provided approximately $1.9 billion in value-added contributions to the U.S. Gross Domestic Product (GDP) where:
69% of contributions occurred in three states where we operate
31% of contributions related to out-of-state suppliers who provided goods and services for operational activities in our operating area
EQT GDP Contributions (millions of dollars)
EQT GDP CONTRIBUTIONS (MILLIONS OF DOLLARS)
5000

4000

3000

2000

1000

0
$4,663

$2,539

$405

$624

$1,095

2018

2019

2020
See additional information related to local indirect economic impacts in Community Impacts and Safety.